This year will be my second Mother's Day with Bean earth-side. My hubby is all kinds of awesome, though, so it's technically my third Mother's Day since he celebrated me when I was still pregnant.
Last year he gave me the most thoughtful gift and got me the Elsa Peretti 'Bean' necklace from Tiffany & Co.
It's my first piece of Tiffany & Co. jewelry, and that little teal box with the white ribbon really is as exciting as it seems. And the PERFECT necklace inside just blew my mind away. I've worn it every day since.
That was a 'big' Mother's Day and I don't expect or even want this year to be as big.... we'll save another super big special day for if I have another 1st Mother's Day with a new baby.
So, for a more low key Mother's Day I thought I'd put together a few things that I think most moms would love. I know I would!
Books! I know that I looooove to get lost in a good book. Getting a new book on Mother's Day is also an excuse for Mom to go take a bath and relax with her new book. Two gifts in one! My personal recommendation this year would most definitely be Bloom: A memoir by Kelle Hampton.
If I had a ton of money I would seriously buy every single mother I know this book. I already own it (Thanks honey! Jeff bought it for me for our anniversary!), and read it in less than a week. I immediately packaged it up and shipped it off to a good friend because I knew she'd love it. She did and said that she wants her sisters to read it too. It's one of those books that EVERY mom can relate to, and will totally open your eyes to the beauty in your own family.
Music! One of our favorite,
free
, things to do during the week when Jeff is gone at work is have dance parties. I also love to sing and dance in the car. Music has always been an escape for me, so getting a new cd for Mother's Day would be a great gift! My new favorite group is Karmin. I first discovered them when they performed a cover of a Lil' Wayne song on Ellen. I immediately found them on YouTube and we danced many a dance to their phenomenal cover songs. They have finally released their first studio album, called Hello, and it is awesome!
I don't own the cd (yet) but have heard all the songs on Spotify and YouTube. The songs have great beats and the 'raps' don't have curse words so it's safe to listen and dance to with Bean on my hip.
Tea! (or whatever your wife/mom indulges in.) I love tea. Hot tea or Iced Tea, doesn't matter. I love it. You might be surprised to learn that I don't own a tea kettle. Every time I'm browsing through Target (once a week. At least!) I gaze lovingly at the tea kettles.
How sweet would this beauty look on my stove top? Pretty sweet indeed!! (Perhaps your mom loves coffee? There have been some great deals on Keurig coffee makers online lately.)
When I became a mom we also became a one income household so that I could stay home with Bean. One income means that we don't get to splurge on things for us.... on stuff we don't need. In my case - shoes. The way I see it is, Bean needs shoes every six months or so since she's growing so fast. And not just one pair at a time. So, every six months she gets a whole new shoe wardrobe. I've coveted Toms shoes since I first saw a cute pair on
Pinterest
about a year and a half ago. I just can't justify spending $50+ on myself for a pair of shoes when I have shoes that work just fine. They sure are cute, though!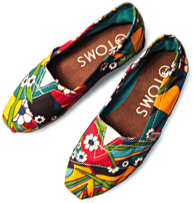 Speaking of luxuries that we don't buy ourselves now that all our money goes to household necessities or our child(ren) TV show boxed sets.
(It's clear that
THIS
Momma loooooves her tv shows!)
Lastly, and you cannot fail here: Pamper her!! Whether you get her a giftcard to a spa for a massage or pedicure, or if you actually take the time to pick her out some fancy soap or lotion or perfume or nail polishes she'll love it. And every time she uses the product she'll stop and think of you. Win-Win. :) There are some great handmade soap and apothecary shops on Etsy and those handmade products are often a million times better (and more thoughtful) than the ones you find at Walgreens.
If that doesn't give a ton of ideas of affordable, low key, but totally thoughtful and
awesome
Mother's Day gifts nothing will help you. Haha!
Tomorrow is Mother's Day and we'll be spending the day with my mom going to The Farm so Bean can pet the animals in the petting zoo area and then back to her house for a BBQ weather permitting. I will be making dessert and it's gonna be an oldie, but a goodie!
Happy Mother's Day all you mommas!!